In a Nutshell
EasyFlirt is a dating website that's been helping singles find fun, flings, and long-term love for almost 2 decades. From one-night stands to committed relationships, straight, LGBT, and more—everyone can find what they're looking for within this massive database of members. Webcam tech for video chatting and a sleek mobile app make EasyFlirt one of the best online dating sites out there.
pros
Video and webcam connectivity
Sharp mobile app
Favourite women's site for dating (free accounts for women)

Easy Flirt Visit Site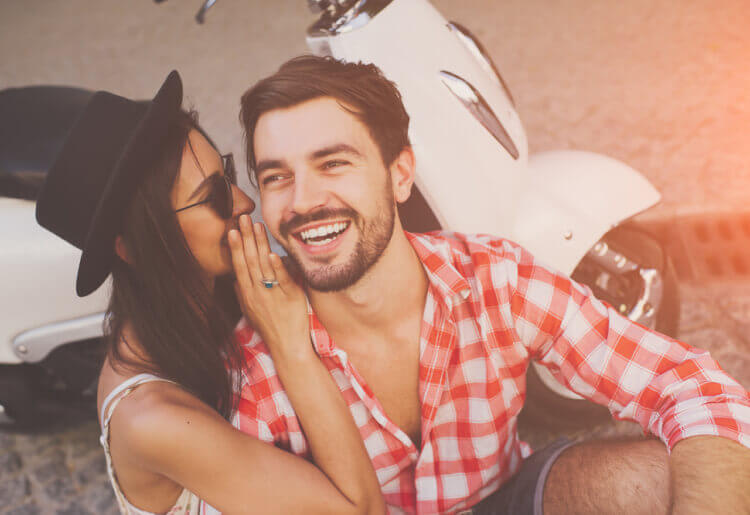 Best for: People looking for fun, flings, one-night stands, just a flirt
User base: International, straight, gay, men, women
Number of members: 26+ million users
Recommended age: 20+
Favorite features: Webcam video chatting
What Users Are Saying
"On a lonely day I subscribed on this site, but i didn't have the courage to go forward straight away. A few weeks later a mail gave me the chance to meet 12 women...including her! It was love at first strike on one of her small photos. I couldn't believe it..." - Anonymous
"Without lying, I didn't think it was possible to find a man on the net! In fact we have been together for 3 months now and have been talking for 8 months! So good luck to you all, love is in the air!" - Anonymous
"It has been a year since we first met on easyflirt and I would just like to thank you. The best is yet to come." - Anonymous
Signup Process
Signing up with EasyFlirt is a pleasure because it is so fast. The whole application process takes just a few moments, and what's really nice is that you can start browsing immediately. Just choose a username and password, enter your email, and you're in. Alternatively, you can quickly sign up using your Facebook account.
Matchmaking & Search Functions
Since EasyFlirt is not exclusively geared towards committed relationships, the matchmaking process is much more flexible, something many singles are excited to see. There isn't a huge questionnaire to fill out, long signup process to go through, or lots of quizzes you'll need to take before you can get started. Instead, EasyFlirt just throws you in and lets you start having fun instantly.
You can choose between "flirt" and "love" at the onset of your journey, but you can easily switch this preference at any time. If you choose "flirt," you'll be shown profiles of people who aren't looking for serious relationships. They're just on the site to have some fun. Alternatively, if you are interested in a long-term relationship or something more serious, you'll select "love." Then you'll be shown profiles of other singles looking for something more substantial than a hook-up.
You can also specify if you are looking for a hetero or homosexual relationship. All of these details will help narrow down the field without taking up the hours of time that many other questionnaire-based dating websites force you into.
When you begin searching the database on your own, EasyFlirt will automatically filter and select profiles that match your search criteria. Then it'll place those profiles above the others on your list. This way you are seeing singles that fit your ideal man/woman instead of loads of random ones. With millions of members on the EasyFlirt website, it's pretty much guaranteed that you'll find many other singles who are looking for exactly what you're looking for. That's the beauty of working with a website like EasyFlirt, a tremendous dating pool to choose from.
Of course, so many options can get a bit daunting after a short while, which is why you would be advised to use the search function to narrow down your options. With EasyFlirt, you can search by several criteria including postcode, age range, and even eye colour. You can also search by weight, something that's quite important to many singles.
The site has a fun speed dating option called Speedflirt. With this feature, you can skim through multiple profiles quickly, clicking on the ones you like, and skipping the ones you are not interested in. If the other member clicks like for you as well, you will be put in contact with one another. It's a much easier way to sift through the thousands of potentials on the site and find a suitable match.
Features & Communication Tools
EasyFlirt has the usual forms of communication including email and IM chatting. What makes this dating site stand out from others of its ilk is the webcam connectivity. With a webcam connection, members are able to video chat with other users, something that most singles are interested in but aren't given the option to do on other dating sites. Seeing another person in real time, being able to talk to them and interact with them via video chat gives you a deeper insight into the person without having to go out on an actual date. This scores EasyFlirt big points for convenience, flexibility, and safety.
EasyFlirt also has all of the standard features such as browsing singles' profiles, searching, messaging other members, starring profiles, and seeing who's viewed your profile. In addition, the Easyflirt mobile app is fast, easy, smooth, and has loads of features that you can use to easily connect to other singles in an instant.
Easyflirt also stands out for its photo gallery. Not only can you upload as many pictures as you'd like (with a paid account), but you can create different albums for different people. So, if you want, you can have a general album that is available to the public, and then you can create a private album with more selective pictures for specific members who you would like to get to know more intimately.
Safety & Security
EasyFlirt takes safety seriously, as is indicated by its strict content and communications policy. EasyFlirt reserves the right to take down any content that it deems inappropriate, and it has been known to cancel accounts altogether if the user is being abusive of the rights of the website. It will also delete unconfirmed accounts (via email verification), to minimize fake accounts.
EasyFlirt does its best to protect its users by giving members tools to monitor their own interactions. For example, EasyFlirt allows members to block other users for any reason. So, if you are receiving unwanted attention from another member, you can easily make that problem go away.
Pricing
The pricing format is another aspect that sets EasyFlirt apart from its competitors. While there is a normal and competitive pricing structure for men, women can chat unlimited and totally for free. This feature is one that makes it particularly attractive to females, earning EasyFlirt the rank of most popular dating website for women.
For male subscribers, you can opt for a 1-month membership for £19.95 or a 3-month membership for £54.90 (or £18.30 a month). Finally, the 6-month membership costs £94.57. So, the 6-month plan works out to just £15.76 a month, pretty reasonable considering all that you get.
EasyFlirt is fairly priced, running on par or cheaper than many other dating websites available today. What's more, EasyFlirt often runs promotions along with its memberships. For example, you might purchase a 1-month subscription, and you will receive 7 days for free. A 3-month subscription can earn you a full free month too, depending on the promotions being run at the time. So, you can get lots out of these subscriptions if you play your cards right.

Easy Flirt Visit Site
Help & Support
EasyFlirt has helpful and friendly customer support available via telephone or email.
Find Love on EasyFlirt
Whether you're looking for fun, flings, or full-fledged relationships, EasyFlirt has a lot to offer. Available in French, German, Italian, Portuguese, Spanish, English, and additional languages, EasyFlirt is truly the international dating site it claims to be. With free features for women, it's no wonder that this dating website has been voted the number one online dating site for females. EasyFlirt earns top marks for being a great online dating resource for singles everywhere.